---
As it's the busiest time of year for many of our event promoters, the run up to New Year's Eve is the busiest time of year for us at Skiddle. To reinforce what we're doing here at Skiddle we always carry out a bit of a marketing campaign that targets event goers telling them to get over to Skiddle to get their event tickets.
This year our campaign is entitled Don't be left out in the cold. Simply the campaign is aimed at creating a sense us urgency in the event goer's mind whilst reinforcing New Year's Eve eminence as one of the main nights of the year.
Unlike other event promoters we won't be promoting your events along side your competitors, instead we will be directing the event goers to our New Year's Eve 2012 Guide a page which ranks in the tops spot for many of the generic New Year's Eve 2012 terms, meaning we are confident people will find our new year's eve listings no matter the route they use to find the content.
If you keep your eyes out, you're bound to see the offline marketing we're carrying out in a town or city near you (just think about the types of places event goers might be found). We've got flyers being handed out, posters going up, even billboard advertising – so keep your eyes pealed!
You will also find we've got a New Year's Eve remarketing campaign, so if you've been on Skiddle and not bought anything you will probably see the odd Skiddle NYE ad popping up and following you around the place.
An example of some of the online display advertising you might see around the place can be seen below: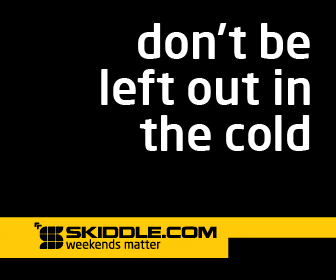 Carrying out this kind of marketing drive at this time of year is what sets us apart from the competition and it's what makes our New Year's Eve listings significantly out perform other listings.
To benefit from the considerable marketing Skiddle carries out to the events goers around the UK all you have to do is get your event listed on Skiddle by visiting the Promotion Centre.
---