---
It's been a busy number of weeks here at Skiddle HQ and it's looking set to continue based on the recent UK Government roadmap. We've seen a huge surge in consumer confidence as customers are super keen to get their hands on tickets for summer events and festivals, while promoters are listing more and more events with us in the run-up to outdoor events and a potential lift on restrictions in June in England.
Make sure you start listing with us now to make use of this wave of popularity!
Contact Promoter Support at promoters@skiddle.com
Contact Account Managers via direct email or am@skiddle.com
Time to update your TBC events!
Postponing events with a date to be confirmed was a lifeline when COVID-19 struck and hopefully now with the roadmap, you will be in a position to reschedule these and announce a new date to your customers.
To make things easy, we've added a list of all the events with a TBC date onto your dashboard in the Promotion Centre. Please select [Update details] next to each event to announce a new date or cancel them.
Unsure about restrictions in Scotland, Wales and Northern Ireland?
While we've heard a lot about COVID restrictions in England, there's been some uncertainty around the restrictions in Wales, Scotland and Northern Ireland. With that in mind, we've put together a thread on Twitter with the latest on COVID restrictions in Scotland, Wales and Northern Ireland.
Keep an eye out on our Twitter feed for the latest as it happens.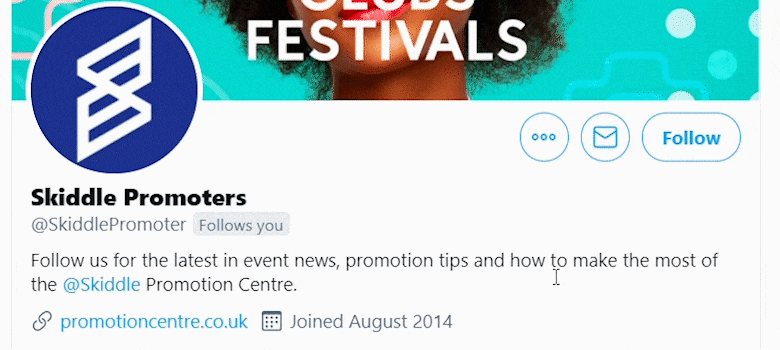 Join our Women in Isolation webinar in partnership with Music Support
To keep the momentum of International Women's Day going and encourage these conversations long-term, we're proud to announce the third in our series of webinars with Music Support and Thrive around women in isolation. Join our esteemed panellists consisting of musicians, producers and industry professionals where they'll be sharing their coping mechanisms and how to seek support. Tickets are free via Skiddle.
Want an invite to our slick new beta Promotion Centre?
You might have seen our feature updates in the past few months, but you can still sign up to test our beta Promotion Centre before we roll it out to the public if you want to be the first to tell us how to improve.
As requested by you, we've recently introduced an embargo feature which allows you to schedule an event to go live at a specific date and time.
Want to find out more? Add your details via this Google Form and we'll be in touch to upgrade you to the beta platform. Help us help you!
---
Skiddle is currently the UK's biggest What's On guide, providing a free facility for event promoters across the UK to list their events online and sell tickets through our independent ticketing service. We currently work with over 35,000 UK and European promoters, at over 30,000 venues. We specialise in helping events through that critical growing phase by providing the marketing and technology support that you need. Start listing your events today!
---