---
We're now giving promoters a choice as to whether your event is physical or virtual when adding your event to Skiddle. If virtual, you can select if it should be shown everywhere (i.e the location of the visitor doesn't matter), or it can be targeted to a specific city.
You may have a virtual event that you only want people from London to attend for example. Or, you may be hosting a virtual event where location doesn't matter and you want registrants from anywhere and everywhere. Either way, we've got the right option for you.
Here's how to edit your listing to make it a virtual event (see below gif).
These events can now be searched easily from the home page or events guide using the menu that appears in the location box.
Events that are added as virtual and 'available in all areas' will be shown if people click 'all online events' once they're in the location box on the homepage. Events which are added as virtual but targeted to a city will be shown if people choose 'all online events', or if they are in the city that's targeted. They won't be shown to visitors in other cities.
Don't worry if that's confusing, we've outlined how it works for you in the gif below.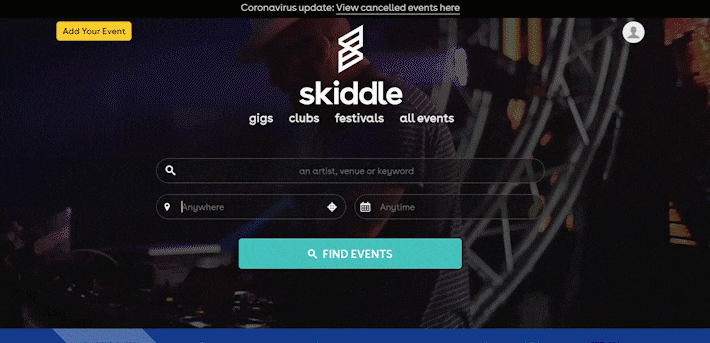 Check out some examples in real-time:
Skiddle is currently the UK's biggest What's On guide, providing a free facility for event promoters across the UK to list their events online and sell tickets through our independent ticketing service. We currently work with over 35,000 UK and European promoters, at over 30,000 venues. We specialise in helping events through that critical growing phase by providing the marketing and technology support that you need. Start listing your events today!
---