---
Ok we're sure by now you know we've got a new Promotion Centre on the horizon. (Have we told you we've got a new Promotion Centre yet??)
If you've listed with Skiddle in the past, you'll be receiving our feature updates every week so you can see what's happening behind the scenes as we work hard to give you a seamless place to list your events. From music to comedy, to theatre, we've got you covered.
We're pushing updates out so frequently that it can be a bit hard to keep up. So, if you want one place to see all our updates that can be found in the release of our upcoming Promotion Centre, look no further!
Last updated 29 Jun 21
Improved power features, stats and dashboards: available now
We've fully redesigned and reworked our main dashboard and single event dashboard. So, on the homepage once you've logged in, you can see the stats you care about the most in real-time: an overview of event views against tickets sold for all your events. This gives you complete visibility on all your events and provides an accurate overview on their performance over a specific time period.
We've also introduced a bunch of handy new features for your events listed below.
Quick access to tickets: access tickets easily using our sidebar navigation. Click on your event and then view all of your tickets, prices and sales numbers or amend quickly if needed.
Copy tickets within an event: in our new Promotion Centre you can bulk edit your events by copying tickets between events. Essential for tours and multiple date shows.
Custom stats: a powerful tool to give you complete control over your ticket count stats. Allows you to organise your ticket stats how you wish, creating multiple groups to view your sales in multiple dimensions. You can pop all these tickets into one group to get a simple sales count, which is automatically kept up-to-date.
Instant image moderation and feedback: receive instant feedback on your event display images so you can optimise your listing quickly, generating revenue sooner. Good quality images boost the views of your event by up 10x, so the instant feedback from us regarding the quality means your listing will get the very best from our promotional services.
Improved artist tagging: shows you how many Skiddle users are tracking a specific artist, which is useful for push notifications for your event.
Help tips added in key places to highlight and explain certain features.
View a sneak preview of our dashboards in more depth.
Mandatory social distancing feature: available now
If you've listed an event recently you may have noticed our new 'Social Distancing' feature. This is to help promote your event and highlight to customers what measures you're taking to put on your event in order to comply with the UK Government's Social Distancing guidelines.
Once you have selected which apply to your event, your options will then appear publicly to your customers on the event listing.
If you've already listed your event but would like to update it with your social distancing measures, simply edit your event listing via your account in the Promotion Centre.
Improvement to listing and searching online events: available now
We've introduced the option to add your event as physical or online when listing.
If virtual, you can select it should be shown anywhere (i.e the location of the visitor doesn't matter).
Virtual events can be targeted to a specific city if you want the option e.g a London specific online event.
Online events can be easily searched from the homepage or events guide using the location box on the Skiddle homepage.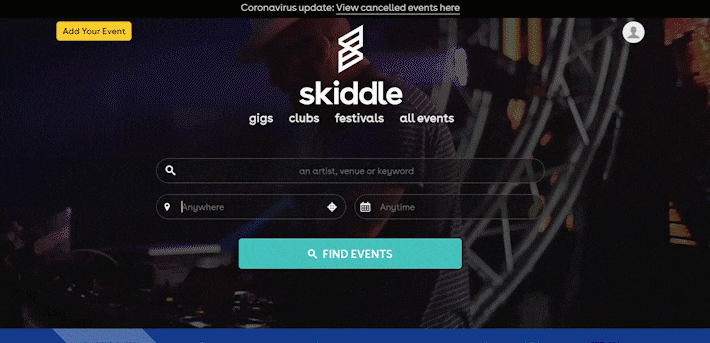 We added the ability to add 'Pre-event information' such as Zoom links, which will automatically be emailed to customers 1 hour before the event start time.
Dynamic seating allocations: available now
Pick your own seat: fully mobile optimised visual seat picker.
View From Seat: give customers an image of how the stage view will look from their seats.
Pricing per section: Set your ticket pricing per venue section, eg Stalls/Balcony.
Pricing per seat: Allow multiple prices per seat, for example, Adult/Concession/Child.
Adjustable Social Distancing: Determine how many seats to be left open to the sides as well as front and back.
Limit group bookings: Allow family members to seat together by setting the limit of seats that can be selected together.
Disable aisle seats: Keep aisles safe to walk on by disabling a provided number of seats next to aisles.
Manually override rules: Hand pick seats that must be disabled, or enabled over existing rules.
Our real-time visual seat picker also shows customers which seats are available and at which pricing options, allowing them to reserve their seat while they book.
Ticket box with add-ons: available now
We've recently added a new feature on our ticket section which allows you to include add-ons like accommodation, food and travel to your ticket offering. This feature allows tickets to be grouped together in a more user friendly way and allows you to upsell features that customers otherwise might not have been aware of.
This feature is available to use now via the beta Promotion Centre or via Account Management. Don't hesitate to get in touch with your designated Account Manager if you'd like to enable this for your events.
Bulk editing/deleting events: available now
Save time copying/bulk deleting tickets between your events, making bulk editing much more efficient, especially for tours and multiple date shows. Simply select the relevant events you want to edit in your events dashboard and select 'bulk edit' next to 'create new event' and away you go!
Embed ticket boxes: available now
Add ticket boxes embedded to your website with ease.
'Buy tickets' button opens ticket sales in a pop-up window as an alternative option if you list many events on one page.
Session ticketing: available now
Our pop-up calendar provides an easy way to see all the sessions in one place so your customers can therefore easily pick a different date or time if an event is sold out, improving purchases for your event and reducing the drop off rate from event pages.
Embargoing your events: available now
Our embargo feature allows you to select a date and time for your event to automatically go live. You can find this feature in the final step of adding a listing.

Events which are under embargo will remain in draft (meaning they won't show on the Skiddle website and app) and show a special status of "embargoed" in your main events dashboard. Your events dashboard can be found easily by clicking "Manage events" then "view all events".
At the date/time specified, we will automatically flip the event to "live", so you can sit back and relax while we do the work for you!

Improvements to accessibility: available now
In our upcoming Promotion Centre, we've added an improvement from a text field for 'disabled facilities' to a full list of accessible facilities you can check for your venue. This includes a tick box for a step-free bar, box office, toilets, performance space as well as accessible parking and viewing platform.
Add an events widget to your website
You can now add a listings widget to your website to maximise your ticket sales!
With an embeddable listings widget you can:
Embed all your upcoming events onto your website.
Keep your website up-to-date automatically as events change.
Direct 1-click through to purchase tickets.
Show most popular events, or by date order.
Style to suit your website's colour palette.
You can edit the theme's primary colour which will change the background of the top navigation bar of the listing widget and the background colour when you hover over a listing. You're also able to edit the text colour as shown below. Read more on on how to add a listings widget to your website.
Create your own payment plans
In a never seen before feature, we're pleased to announce that we're giving our promoters control over their own payment plans to offer customers. Payment plans have been used to maximise sales due to the nature of paying off the cost in instalments and while Skiddle has been supporting this feature for a number of years, we're proud to announce that we're giving our promoters flexibility on adding this yourselves. Read more on how to create your own payment plans.
Try our Beta Promotion Centre for yourself!
Want to see more? You can still sign up to test our beta Promotion Centre before we roll it out to the public, including the features mentioned here that are coming soon.
If you're interested, make sure you add your details via this Google Form and we'll be in touch shortly. Alternatively, you can get in touch via promoters@skiddle.com or contact your dedicated Account Manager.

---
Skiddle is currently the UK's biggest What's On guide, providing a free facility for event promoters across the UK to list their events online and sell tickets through our independent ticketing service. We currently work with over 35,000 UK and European promoters, at over 30,000 venues. We specialise in helping events through that critical growing phase by providing the marketing and technology support that you need. Start listing your events today!
---