---
The final chapter of the year is now fast approaching and for the first time since 2019, we'll witness partygoers welcoming the new year shoulder to shoulder on dance floors UK wide, without the need for social distancing.
Set to be an incredibly special occasion, this year's festive holiday season will also offer promoters the first opportunity in more than twenty-four months to collect an accurate dataset for the Christmas and New Year period, helping to plan for future events for years to come. And one of the many ways to gather those all-important key data points is by using marketing tracking pixels.
Some of you will have already heard of tracking pixels and might have even applied them when promoting events with Skiddle. Some of you might be completely unaware of the technology and its many benefits. Regardless of your situation or understanding, we're here to enlighten you, offering a simple explanation of what tracking pixels actually are, what they can do and how you can use them to your advantage. Keep reading to find out more…
---
What are tracking pixels?
A tracking pixel is a small 1×1 pixel graphic that's hidden within the coding on a web page, email or ad etc. Invisible to web users, the pixel gathers behavioural data once the page or link on which it exists is opened.
Using analytical tools, these pixels allow you to learn more about your customers. You can examine conversion rates, the activities which took place during each users session on the website etc, and other details such as the time of visit, location and the user's operating system. 
Subsequently, this knowledge can help you to streamline your pages and ads, making your users experience a better and more fruitful one. It can help you understand which channels are driving the most traffic and sales, and help you get the most out of your budget.
Our recent tracking pixel updates
We've recently included the capability to attach tracking pixels to social media profiles and pages on platforms TikTok and Snapchat. We are now the only ticketing platform to offer this technology across all social media platforms. 
To add tracking pixels to your social media pages, log in to the Beta promotion centre and select 'Events' in the navigation bar on the left-hand side of your screen. Click on 'View all events' and select the event you'd like to add tracking pixels to. Then return to the menu on the left of your screen, click 'promotion' > 'tracking'. Scroll down the page and add your Snapchat and TikTok pixels. Simple as that!
---
An update to Facebook API conversions
Back in the summer, we took action to mitigate the changes brought forward by Apple's iOS14 update, which saw tracking data sent to Facebook being limited and the introduction of a tracking opt-out for users. The limitation of data also had a huge impact on conversion data, which saw figures dropping off. 
Here's more info on Facebook API conversions and how we rectified the issue…
What's new to Facebook API conversions?
Promoters can already add their tracking pixel to Skiddle, to help track conversion events. This works well but is affected by 'signal loss' – i.e. when these events don't fire properly they can reduce the number of conversions reported in your Ad Manager. This can be due to network issues, ad-blockers, or more recently, iOS14 privacy opt-outs. It also currently includes any app purchases which can't fire the pixel.
Skiddle now also sends purchase conversion events to Facebook via our server. This involves no pixels and therefore the signal quality is much higher. We still send the browser pixel, and Facebook will automatically deduplicate the events based on the data we provide to them. This ensures there are always two independent methods for tracking a purchase, should one fail.
How will this affect my Ad Campaigns?
Introduction of the Conversions API will ensure your 'Purchase' tracking within your ad campaigns is as accurate as possible, and should not be negatively affected by iOS14.
Please note, you can no longer optimise your ads for conversions (see update info here) due to the new Apple restrictions, however, you can still view and report on purchase conversions.
Will purchases via the Skiddle app be tracked?
Yes. With just the pixel, it's not previously been possible to track sales for 3rd party ad accounts via the app. If you enable Conversions API, all sales from all channels will be sent to Facebook so you get a complete overview of your conversions, no matter which channel they were made from.
If the data is being sent to Facebook twice, will this double my conversion stats?
No, we send a lot of metadata with both the pixel and server events to ensure they can be de-duplicated. This data includes a unique orderID which means Facebook will not track the same order twice.
What impact is this likely to have on statistics?
Our initial testing has shown that browser pixel conversion reporting may be between 10-30% lower than actual purchases. We expect this number to increase as more users install the iOS14 update. Once the Conversions API has been activated, this loss should be reduced to near zero.
How do I activate Conversions API?
To activate, you need to generate an Access Token for your pixel, as follows:
Open Business Manager and select the correct business associated with your pixel
Go to 'More tools' > Events Manager.
Locate the pixel that you wish to use to track. If you've already set up a pixel on Skiddle, you must use the same pixel.
On the pixel, go to Settings. Ensure 'Automatic Advanced Matching' is ON, then click 'Show Options" and ensure each option is turned ON. Scroll down to 'Conversions API' and click 'Generate Access Token'.
Please copy the entire access token and enter it into the 'Tracking' menu on the Promotion Centre or provide this to your Account Manager. Please also send over the Pixel ID so we can ensure they match. Example below: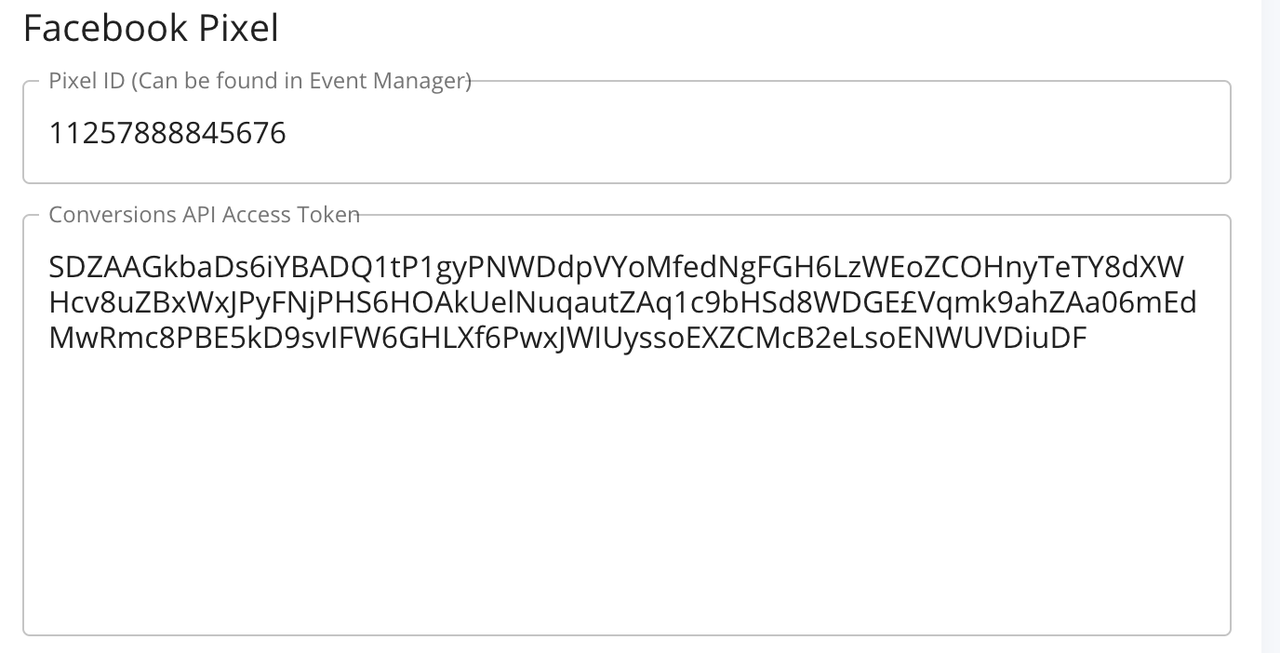 If you have any issues with this please contact your dedicated Account Manager.
---
Skiddle is currently the UK's biggest What's On guide, providing a free facility for event promoters across the UK to list their events online and sell tickets through our independent ticketing service. We currently work with over 35,000 UK and European promoters, at over 30,000 venues. We specialise in helping events through that critical growing phase by providing the marketing and technology support that you need. Start listing your events today!
---